The Badger Dual Sport Ride
The Badger is a fun new dual sport and adventure motorcycle ride through the Sauk Prairie State Recreation Area (SPSRA) formerly known as the Badger Ammunition plant.  The SPSRA is a unique 3400 acre property located just south of Devil's Lake State Park.
The event features a 15 mile loop.  This relaxed route utilizes a majority of the existing trails and access roads throughout an incredibly beautiful property.  The roads and trails vary in condition from old pavement, gravel, to grass tracks.  Riders are encouraged to enjoy the route multiple times during the event, as most portions of the route are only accessible to riding during the Badger ride. 
The Badger ride is a truly unique riding opportunity for our area.  It is a great opportunity for riders to have fun, appreciate beautiful local public land access, and gather with fellow riders.  The event is not a race, and is not competitive.
Ride Registration Information
Ride requirements:
Motorcycles must be highway licensed vehicles and have a valid license plate.
All riders must wear a helmet and appropriate safety gear. 
Rider must possess a valid driver's license and follow posted speed limits.
Sound check required, 96db limit check completed on site prior to ride.  If it's loud, please don't bring it.
Free registration!
Wisconsin OHM sticker required. Stickers are not available for purchase at the event, but can be purchased online.  Please plan ahead.  Funds from the OHM sticker program directly support the costs of this ride and additional off-road motorcycle trail development across the state.

AMA membership is not required, but highly recommended! Without the AMA we wouldn't have insurance to run the ride. Please consider joining, help support others who support your hobby! 
The Badger is put on by awesome volunteers.  It couldn't happen without them.  If you want to give back to your sport by hanging out and having fun, join the Driftless Dual Sport Riders club!
Pre-registration required, please register here:

Register for the Badger Ride

Already registered?

Already registered?

Registration and the event is limited to the first 100 riders. 
If your plans change, please contact us to open your spot up for others.

Ride Date: Sunday Oct 1st 2023

9am-4pm open ride time. Arrive and ride any time during these hours. 
Registration tent closes and last lap starts at 3:30PM 
Common questions
What are the trails like?
–The trails are based on old deteriorated roads, gravel, and grass tracks.  The trail is 2 track wide, but there will be pot holes, loose gravel, and slick grass.  There is no single track or tight woods riding.  There is some enjoyable elevation change as you climb up the North end near the Baraboo bluffs.
Do I need 50/50 tires?
– Most stock OEM 80/20 tires are perfect for this, even street tires work if you are more experienced and pace yourself.  
Is my bike appropriate for this ride?
– If it's street legal and plated, then yes.  Adventure bikes and dual sports are popular, we also see smaller trail bikes, and vintage bikes putting big gins on faces.  It's fun to see the variety of bikes that make it out.  
I'm new to riding off road, should I attempt this?
– Absolutely!  This is a great relaxed introduction to off road riding. Come meet with others who can introduce you to many additional riding opportunities to evolve your skills.
Can my child come learn to ride?
– Sorry, no.  This is for licensed riders only as the route utilizes public roads within the property.
Arrival
The West entrance to the property is directly accessed from US Highway 12.  Please use the West entrance only! Otherwise, you can easily get lost and be a danger to riders on the route!
Signs and arrows will direct participants from the park entrance to the registration area. Please follow these closely, as there are private lands intermixed in the same area.  Please respect all private property boundaries, they are not short cuts.
NOTE: The registration area is about 3 miles in from the entrance gate.  
If arriving via motorcycle, head directly to the registration area via the arrows.  If you are towing a bike on vehicle or via trailer, we require you to park your vehicle in the front lot of the property.  It's the first large parking area to the right, just as you enter the property.  Please don't park in the museum lot.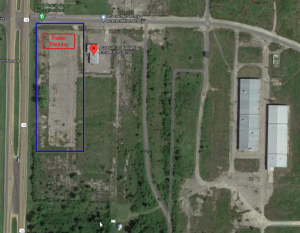 Next, proceed to follow the arrows to registration on your bike.  Do not bring vehicles or trailers to registration, there is no room and we will send you back.